D.R.O.I.D : reality isn't everything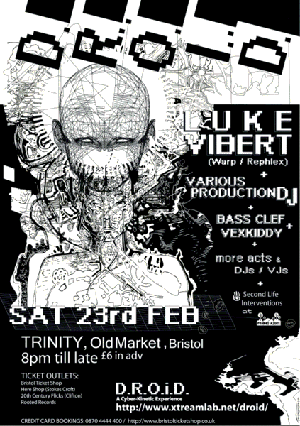 poster design by imasaka
D.R.O.I.D : 2008-02-23 20h00 GMT
Trinity, Bristol, UK / Prados Azules, Second Life
visit our Myspace page or Facebook event
D.R.O.I.D is a club: big and heavy. An extraordinary occasion featuring a stellar cast of 21st century dance music from top draw live guests, DJs and some virtual avatar stars. The line up is blistering in the bass end with super high end tweaks - be it filthy house, dubstep-not-dubstep, mutant breaks, electro-techno of Victorian Acid House. Seriously giant screens transform the club by hijacking the world of Second Life and setting it loose in a real life environment, with live streams and killer VJ pyrotechnics.
D.R.O.I.D is an event to challenge our reality, what we perceive to be the here and now, and what we think of as the future-distant. This is where the live computer generation display their wares - trombone action, crazed techno cabaret shows, filter sweeps and urban music from across the globe liven up the place. The technology is set loose for future funk.
D.R.O.I.D will take place simultaneously in the digitised world of Second Life, and as a consequence of this, across the known world. The line-up at the Trinity will be streamed live into Second Life, where avatars will be able to enjoy the sights and sounds of the night. At the Trinity huge suspended, back-projected screens will show the audience the virtual world of Second Life. There will also interaction in the hall to allow participants to hit the dancefloor in the virtual domain.