D.R.O.I.D : reality isn't everything - the cast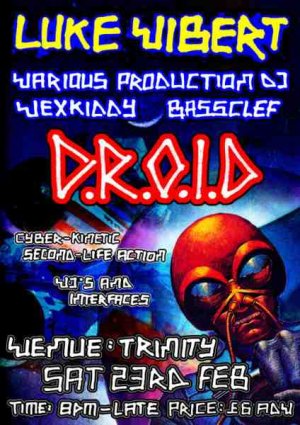 poster design by ray
Live from the Trinity, Brisol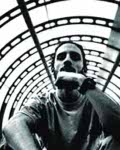 LUKE VIBERT is the ultimate UK dancefloor chameleon, ceaselessly morphing identities from his own name (billowing acid house and breakbeat) into Wagon Christ (kitchen sink cartoon-hop), Plug (quirky drum 'n' bass), Amen Andrews (junglist tear-out), Spac Hand Luke (grimey goodness), and Kerrier District (glitterball disco/house) As a DJ he goes wherever the mood takes him, and the floor will always follow: multidimensional, freerange fucked-up grooves from the original Cornish king.
http://www.warprecords.com/lukevibert/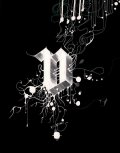 VARIOUS PRODUCTION DJs are a shadowy collective of sublimely different futurists. Their unique sound - noir-ish vocals over mangled grime, deep dub and spooky beats - seems to refract Bristol of Portishead or Massive Attack through a hall of mirrors and update it for the 21st century. One of the most thrilling electronic crossover/under outfits to have emerged in years, they sit alone with Burial in taking rough-edged dubstep sonics overground by marrying them with a sweet vocal sensibility.
http://www.various.co.uk/
http://www.myspace.com/various

BASS CLEF live is a blast. With live trombone and pirate flags, he bypasses laptop/looping and embraces a primitive and banging dance experience. A rogue operator of the bottom end kind. His live show is a heady combination of heavy bass, dirty high end and killer melodies. Kinda like 'Rahsaan Roland Kirk' jamming with 'Iration Steppas' on a full moon.
http://www.myspace.com/bassclefbass
http://bass-clef.blogspot.com/

VEXKIDDY are a show and a half. They bang up the place with messed up dance music via Victorian time travel mixed with an acid house sideshow. Cuthbert & Strangeways, two serious 'scientists' from the Victorian era, go in search of Vexkiddy, an interstellar being who has wrought havoc with the time flux polyphase generator that their assistant 'Trainee' was using.... 'Trainee' is still lost in future-time... will they ever reach him?
http://www.vexkiddy.com/
http://www.myspace.com/therhomworkshop
Live from Barcelona
Undo is a man of many faces who as a DJ, composer, musician, producer and label owner followed a steady career before appearing like a revelation on the Barcelona scene with the electro-boom dance-floor bombshell Mirrorball in the early 2000s. Undo will be performing his mix of techno and indie influenced music live from Barcelona into the Trinity via a live stream.
http://www.myspace.com/djundo
http://www.factorcity.com/
Also featuring
The iconscious Collective are based in London and have been DJing, VJing, webcasting and putting on parties across Europe since 2002. Mike Cupcake will be mixing video, photographs and live cameraworkinto the visual projections at D.R.O.I.D.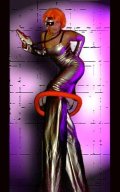 Vertigo Stilts will be sending Astrid the Cyber Vixen. Armed with her laser weapon, Astrid patrols the Galaxy, constantly in touch with her ships computer, Zelda. Although she is a member of the Cyber Security Core this social butterfly loves to extend her hospitality skills to any occasion! She spends so much time combating dissident rebels, the chance to let her hair down is wholehearted!